CKG48 revealed their newest member during their September 7th performance of the "Miss Camellia 片头" stage in Chongqing and it was quite a surprise!
Zhou QianYu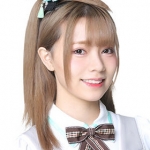 (nicknamed "Akuma"), formerly of GNZ48 Team G, is a 6th generation member of SNH48 who later became a member of Team G in Guangzhou in April 2016 before unofficially graduating in May 2017. She now returns as a member of "IDOLS Ft" to perform with CKG48.
Watch her introduction at top of page.