Another GNZ48 member found itself embroiled in a sudden scandal which led to her dismissal from the group on September 26th, 2021.
Zheng YiWen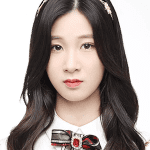 , a trainee of the 9th generation who had debuted in January 2021, was found to have violated the company code of conduct and shown behaviour that reflected negatively on the group after fans discovered she had participated in a livestream on an unauthorized platform with an unknown man.
Her online accounts and membership were promptly terminated with Zheng YiWen using an alternate account to apologize to fans for a lack of judgement and explaining that the man in question was just a friend from her modeling days and she had not realized doing the livestream would break policies.
Fans, however, pointed out that the man in question had made several suggestive comments about her during the stream which could not be as easily explained.
GNZ48 management issued a notice (see top of the page) indicating the violation of the code of conduct and that Zheng YiWen had been terminated from the group as a result.