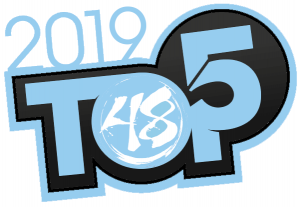 We asked you to vote for your Top 5 in various categories earlier this month and, as always, you came out in the hundreds to cast your votes! As we happily welcome 2020, it is time to reveal the results of our 3rd annual Top 5 rankings!
Your votes helped to create Top 5 lists of SNH48 Group related songs, stages, music videos, events, and original content. As with last year, we do not include ranking of members (that is what elections are for) or events associated to a specific individual (like Li YiTong's graduation).
Here we go for 2019!
Our first two categories are "Top Stages" and "Top Songs." These had to have been released in 2019 and be original.
The next two categories are "Top MVs" and "Top Events". MVs had to be original and have been released in 2019 while the events had to have taken place during same year.
Last but not least is our "Top Originals" category. These are SNH48 Group or Studio48 original TV shows, dramas, documentaries, or Web shows.
TOP 5 ORIGINALS
1. "Lucky 7 Baby" Season 4 (SEN7ES)
2. "彼异界播报I" Season 3 (BEJ48)
3. "啊!圆来是这样"This new web show by GNZ48 which premiered in July 2019 features member to member informal interviews. Web show (GNZ48)
4. "萌妹特攻队"This Studio48 production starring Xu JiaQi, Jiang Shan, Xie LeiLei, and Li Zi is the story of a group of magical girls helping fight a zombie-like virus in a school. (Comic Girl Squad) Movie (Studio48)
5. "意想不到的假期" (Unexpected Holiday) Travel show (Studio48)
Let us conclude this ranking by sharing with you best wishes on this new year from the entire SNH48 Today team!