Following the surprise news that former SNH48 Team X member Xu ShiQi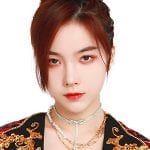 (7th generation) would be making a return from hiatus where she had been since 2018 due to a scandal, it was announced on July 10th that she would be resuming activities in Chongqing with CKG48.
Her profile with an updated photo reappeared as an SNH48 trainee on the same day. This means she will perform in Chongqing but not officially join that group.
This pattern of using CKG48 as a venue where members go to "seek redemption" is obviously not going away.
You can watch Xu ShiQi's introduction in the video at top of the page.