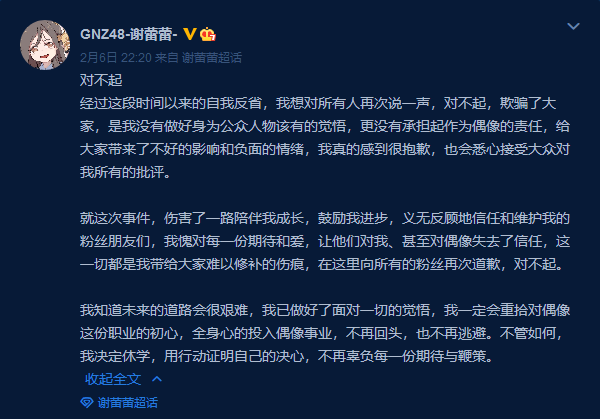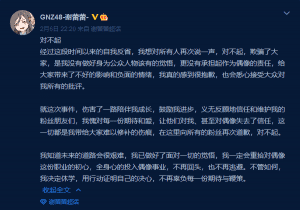 As we reported back last December, popular GNZ48 member Xie LeiLei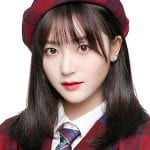 was embroiled into a dating scandal at the end of 2020. The punishment at the time was to demote her to a trainee (losing her status as a full member) which became effective the day after the 7th Best50 Request Time Concert in January.
It was uncertain at the time if she would remain with the group. Many have left for less and her losing several big-spenders in her fan club was going to be problematic for her future prospects.
The apology
All these questions came to rest on February 6th, 2021 just before the GNZ48 Spring Festival (Chinese New Year) special stage at their Xingmeng Theater in Guangzhou when Xie LeiLei appeared before a crowd of fans to tearfully make a public apology for her behaviour. You can see a video of that at top of the page.
She also made an apology to all fans on her official Sina Weibo account (at right) where she says she showed poor judgement and let everyone down. She indicates she still wants to pursue her idol dreams and that it will be a difficult road ahead. She ends by saying she has decided to suspend her university studies in Shenzhen to show how serious she is about being an idol.
The last was probably a result of fans saying they didn't believe she was honest in her earlier apologies and that she would just continue on what she was doing while away at university.