SNH48 Team SII introduced their newest member during their March 7th stage performance with Team HII.
Wang QiuRu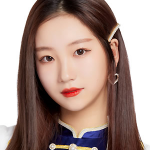 is a 4th generation member of the now disbanded sister group SHY48 who, since January 2019, had been a member of the SNH48 Overseas Trainee team based in South Korea. The various members of that team have been slowly returning to SNH48 Group over the last few months.
You can find her official profile here.
Watch her being officially introduced during the first MC of the March 7th stage at top of page.