The BEJ48 Captains were on hand on April 20th ahead of the group's 4th anniversary performance to introduce (see top of page) two new 8th generation members: Wang DanNi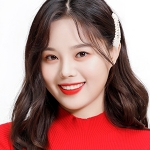 and Zhang RuiYi
.
You can find their official profiles here.
Fans quickly identified Zhang RuiYi has having previously been a trainee with another Chinese agency (Yuehua Entertainment) which is mostly known for male groups and sending some talent to South Korea.
The two members have not yet been assigned to a team. This is expected to take place once the group finally returns to its theater.