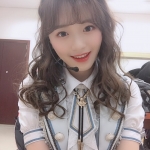 Wan Lina (Nana), 2nd generation member of SNH48 and Captain of Team HII, revealed in her official Weibo account that someone had broken into her dormitory room by breaking through a security window.
Thankfully, she was not there at the time and it appears that nothing significant was stolen. It is suspected by police that this was the act of an obsessive fan but the investigation is ongoing.
There have been instances of such fans finding their way into the dorms in the past but never through a breaking and entering and they were always caught quickly.
Stay tuned for any future updates!