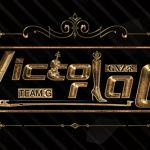 Fans of GNZ48 Team G have been waiting half a year for the promised new original stage "Victoria.G" and, finally, they will see their patience rewarded on July 7th as it arrives in the Xingmeng Theater in Guangzhou for the premiere!
"Victoria.G" is part of a new set of stages that began with "Fiona.N" (Team NIII) and will conclude with "Mia.Z" (Team Z) later this year.
GNZ48 finally revealed details about the new stage on June 25th by opening the stage web page complete with the new setlist and promo pictures of members.
The setlist
STAR48 continues to produce stages that have complex stories built around them. With "Victoria.G", we encounter 4 distinct acts: "Victoria's Secret", "Victoria's track", "Victoria's awake", and "Victoria's view".
ACT 1 – Victoria's Secret
M01. 城堡的秘密 (Castle Secret)
M02. 盛装打扮 (Dressing Up)
M03. 101米便利店 (101 Metres Convenience Store)
M04. Luna
M05. Miss Victoria
ACT 2 – Victoria's track
M06. 双行道 (Two-Way Street)
M07. 粗心女孩 (Careless Girl)
M08. 低烧 (Low Fever)
M09. 要你说爱我 (Say You Love Me)
M10. Jelly
M11. 占据 (Occupy)
M12. 凛 (Cold)
ACT 3 – Victoria's awake
M13. 内心游戏 (Inner Game)
ACT 4 – Victoria's view
M14. Fiona没有秘密 (Fiona Has No Secrets)
M15. Talking To Mia
M16. I Know