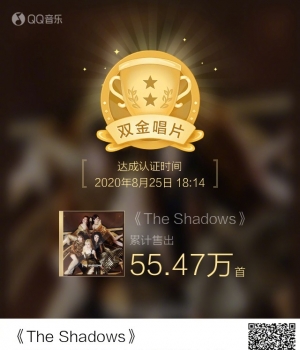 The SNH48 subunit SEN7ES recently released their 5th mini-album. "The Shadows" was made digitally available on several platforms including Migu Music and QQ Music (owned by Tencent).
QQ Music announced on August 25th that the digital album had sold over 554,700 copies and, as a result, had achieved "double gold" status on the platform.
Some fans have already compared that to platinum level results achieved by groups "Bonbon Girls 303" and "THE9" this month but that is not a good comparison since the SNH48 fans were in the middle of the 7th elections and, as a result, could not put all their common funding towards pushing the numbers up.
This is the second time in less than a month that SEN7ES hits gold on QQ Music. They had already achieved gold status for their single "U Know" on July 29th with over 27000 copies sold at the time.