It was fitting that one of the former Captains of Team SII got to be the last one to have her graduation stage at the SNH48 Xingmeng Theater ahead of October 3rd final performance of the 1st generation.
Dai Meng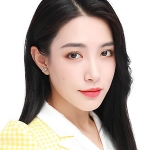 (Diamond) will continue on with the subunits SEN7ES and AW9 after her graduation and will no doubt show up at the theater again but not as a member of the team she helped to create 8 long years ago.
A surprise

The show was going well with the usual solo performances and good-natured teases from her fellow Team SII teammates right up until the moment of the cake. A video of Xu JiaQi (Kiki) was projected on screen where she sent her best for the event but, then, in a surprise move, she suddenly appeared at the opposite end of the theater singing the SEN7ES song "Like a Diamond".
What a surprise for all! You can watch that moment in the video below.
Her PV
Finally, let's take a look at her personal graduation PV which reflects well the character that fans have grown to love over the years.