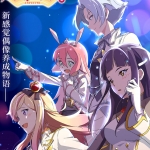 Do you remember "Project 48"?
A few months ago, we reported that STAR48 had invested in an animation company in Shanghai with the aim of producing the 1st anime based on SNH48 in collaboration with Tencent. The working title of the anime was "Project 48".
Fast forward to July 2019 and we now have the release of the first teaser (top of page) for the new production which has since been retitled "无限少女48".
No other details yet exist about the show which was reported to be set for a 2019 Q4 release.
Stay tuned!