GNZ48 reserved a surprise to fans on May 1st as they launched their 3rd anniversary celebrations: Zhang Xin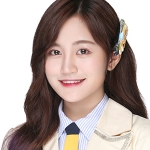 , Co-Captain of SNH48 Team HII, officially became a concurrent member of Team NIII!
Zhang Xin originally comes from the Guangzhou area and it is received by fans as a reward for her hard work as well as a reciprocal move following the concurrency of Zhang QiongYu to Team X earlier this year.
The concurrency took immediate effect with Zhang Xin participating in the ceremony and joining the Team NIII May Day holiday stage on May 2nd.
Watch (below) Zhang Xin performing "榮耀日" ("Glory Days") first performed by Team HII in their "手牵手" stage in 2015.
Congratulations!