February 3rd was the date set for the 4th SNH48 Best50 Request Time concert.
Each year, SNH48 Group allows fans to vote for the songs they believe are the very best out of the SNH48 music catalog. Fans can vote for a song but, also, on who are the members or teams they want to see perform that song.
The concert took place once again at the Mercedes-Benz Arena in Shanghai which is a mainstay of SNH48 Group events as that is also where the annual General Election takes place.
Hundreds of songs from the entire SNH48 Group discography were in competition and fans gathered early in the day to purchase limited edition souvenirs of the event and enjoy the full concert experience.
The event this year was sponsored by Chinese mobile phone maker Xiaomi and broadcasted jointly by Migu Music (part of state-owned China Mobile) and Tencent.
All about the songs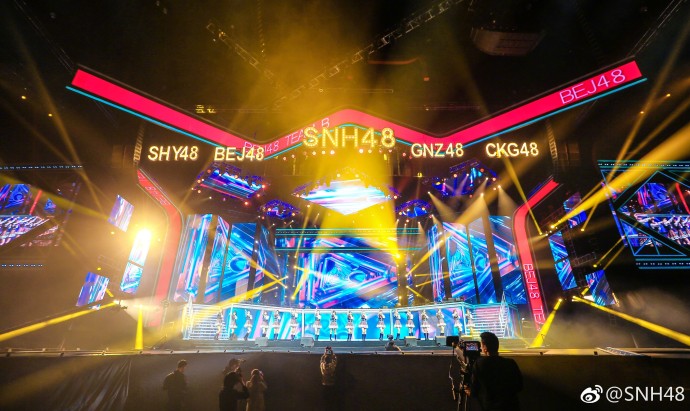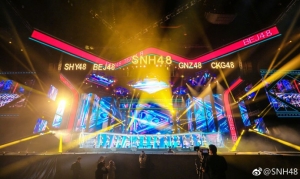 50 songs. That is how many performances fans voted for during this show and nobody knew what the exact final ranking was going to be. Our team members on site reported the excitement to be palpable.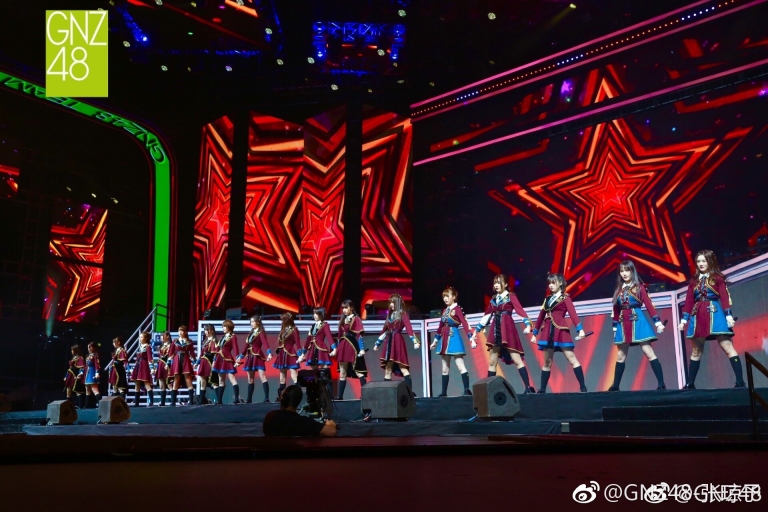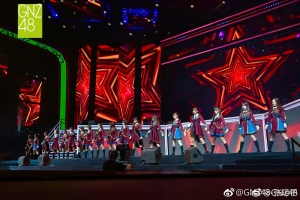 Backstage, members of SNH48, BEJ48, GNZ48, SHY48, and CKG48 (who were participating for the first time) were taking time for a few last minute practices. Members have been aware of the results for some time but these songs would have them perform with members of groups in other cities which means their practice time was extremely limited.
The show started promptly and was being broadcasted freely worldwide on Youtube (you can watch that stream at top of page) as well as Tencent and Migu Music.
Here are the 2018 winners:
Top Unit Song: "春夏秋冬" ("Seasons") from the SNH48 Team NII original stage "In the Name of Love" centered by Su ShanShan (BEJ48 Team E) with Wang ShiMeng (SHY48 Team SIII), Feng SiJia (BEJ48 Team E), and Zhang DanSan (SNH48 Team X)
Top Team Song: "光之轨迹" from the SNH48 Team NII original stage "In the Name of Love" performed by Team NII itself.
Below are the full results of the event: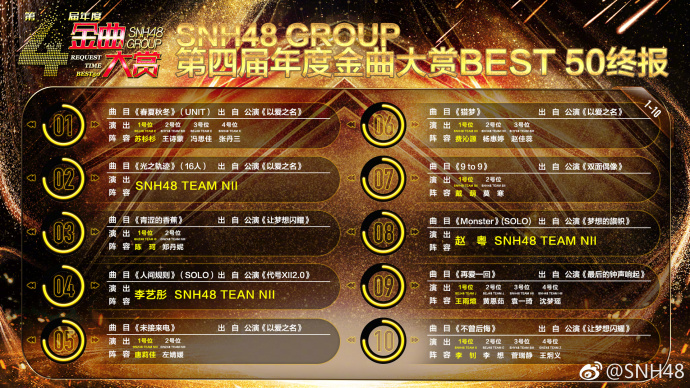 01. "春夏秋冬" – Su ShanShan, Wang ShiMeng, Feng SiJia, Zhang DanSan
02. "光之轨迹" – SNH48 Team NII
03. "Tonari no Banana" – Chen Ke & Zeng DanNi
04. "人间规则" – Li YiTong
05. "未接来电" – Tang LiJia & Zuo JingYuan
06. "猎梦" – Fei QinYuan, Yang HuiTing, Zhao JiaRui
07. "9 to 9" – Dai Meng & Mo Han
08. "Monster" – Zhao Yue
09. "Return Match" – Wang YuXuan, Huang EnRu, Yuan YiQi, Shen MengYao
10. "Confession" – Li Zhao, Li Xiang, Jian RuiJing, Wang JiongYi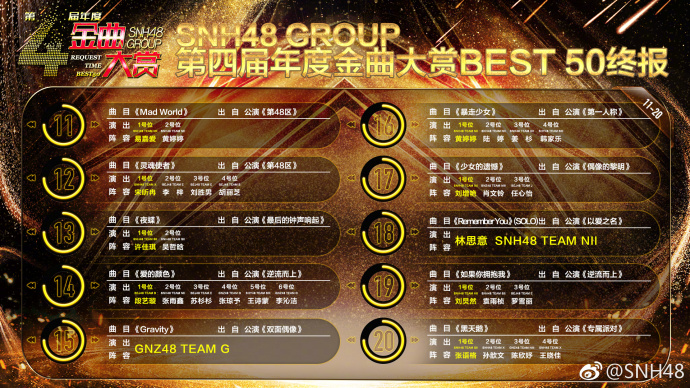 11. "Mad World" – Yi JiaAi & Huang TingTing
12. "灵魂使者" – Song XinRan, Li Zi, Liu ShengNan, Hu LiZhi
13. "Oshibe to Meshibe no Yoru no Chouchou" – Xu JiaQi & Wu ZheHan
14. "Ai ni Iro" – Duan YiXuan, Zhan YuXin, Su ShanShan, Zhang QiongYu, Wang ShiMeng, Li QinJie
15. "Gravity" – GNZ48 Team G
16. "暴走少女" – Huang TingTing, Lu Ting, Jiang Shan, Han JiaLe
17. "Zannen Shoujo" – Liu ZengYan, Xiao WenLing, Ren XinYi
18. "Remember You" – Lin SiYi
19. "Dakishimeraretara" – Liu JiongRan, Yuan YuZhen, Luo XueLi
20. "黑天鹅" – Zhang YuGe, Sun XinWen, Chen XinYu, Wang XiaoJia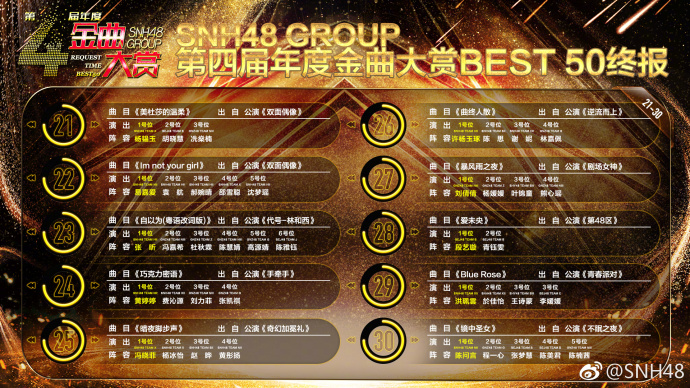 21. "美杜莎的温柔" – Yang YunYu, Hu XiaoJui, Xian ShenNan
22. "I'm not Your Girl" – Yi JiaAi, Yuang Han,Hao WanQing, Shao XueCong, Shen MengYao
23. "自以为" – Zhang Xin, Feng JiaXi, Chen HuiJing, Gao YuanJing, Chen YaYu
24. "Choco no Yukue" – Huang TingTing, Fei QinYuan, Liu LiFei, Zhang KaiQi
25. "暗夜脚步声" – Feng XiaoFei, Yang BingYi, Zhao Ye, Huang TongYang
26. "End Roll" – Xu YangYuZhuo, Chen Si, Xie Ni, Lin JiaPei
27. "Arashi Yoru ni Wa" – Liu QIanQian,Yang YuanYuan, Ye JinTong, XIong XinYao
28. "爱未央" – Duan YiXuan & Qing YuWen
29. "Blue Rose" – Hong PeiYun, Yu JiaYi, Wang ShiMeng, Li YuanYuan
30. "Kagami no Naka no Jeanne d'Arc" – Chen WenYang, Cheng YiXin, Zhang MengHui, Chen MeiJun, Chen NanXi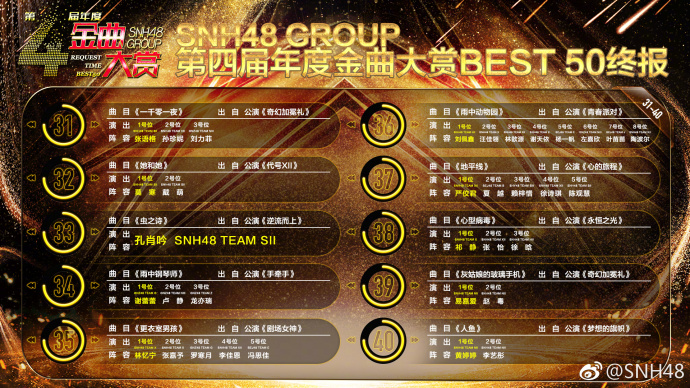 31. "一千零一夜" – Zhang Yuge, Sun ZhenNi, Liu LiFei
32. "她和她" – Mo Han & Dai Meng
33. "Mushi no Ballad" – Kong XiaoYin
34. "Ame no Pianist" – Xie LeiLei, Lu Jing, Long YiRui
35. "Locker Room Boy" – Lin YiNing, Zhang JiaYu, Luo HanYue, Li JiaEn, Feng SiJia
36. "Ame no Doubutsuen" – Liu PeiXin, Wang JiaLing, Lin XinYuan, Xie TianYi, Yang YiFan, Zuo JiaXin, Ye MiaoMiao, Tao BoEr
37. "地平线" – Yan JiaoJun, Xia Yue, Lai ZiQi, Xu ShiQi, Chen GuanHui
38. "Heart Gata Virus" – Zhang Yi, Xu Han, and Qi Jing
39. "灰姑娘的玻璃手机" – Yi JiaAi & Zhao Yue
40. "Mermaid" – Huang TingTing & Li YiTong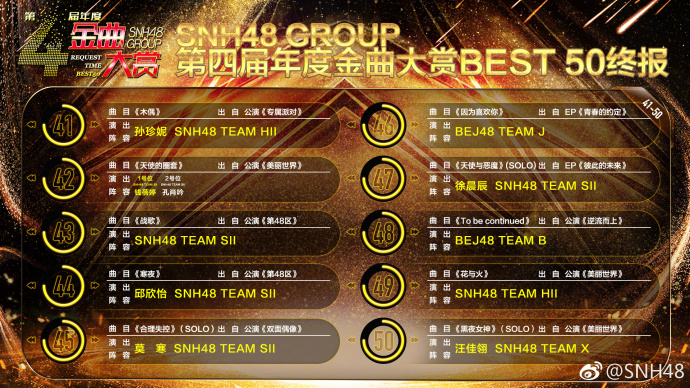 41. "木偶" – Sun ZhenNi
42. "天使的圈套" – Qian BeTting & Kong XiaoYin
43. "战歌" – SNH48 Team SII
44. "寒夜" – Qiu XinYi
45. "合理失控" – Mo Han
46. "Kimi no Koto ga Suki Dakara" – BEJ48 Team J
47. "天使与恶魔" – Xu ChenChen
48. "To Be Continued" – BEJ48 Team B
49. "花与火" – SNH48 Team HII
50. "Heiye Nushen" – Wang JiaLing
A few surprises
Surprises are to be expected at any major event and STAR48 had a few other things up their sleeves on February 3rd.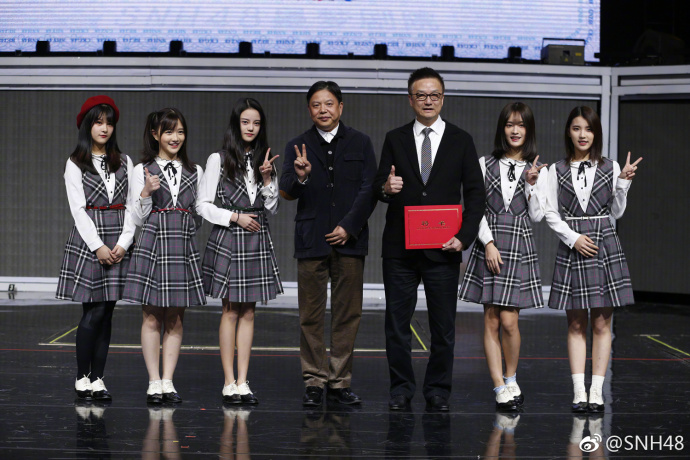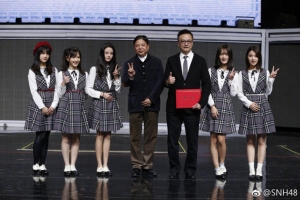 The first announcement came early in the show when SNH48 Group announced that they had acquired the services of famed Hong Kong music producer Xiang Xue Huai as Artistic Advisor. He is known for works with Teresa Teng, Leslie Cheung, Alan Tam, Andy Lau, Jacky Cheung and other artists.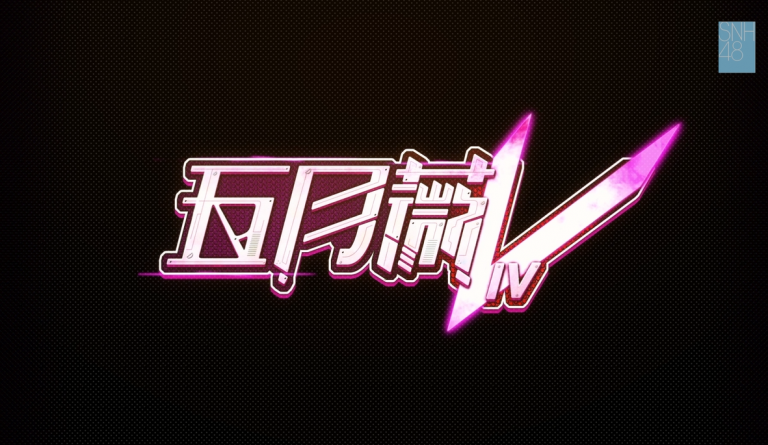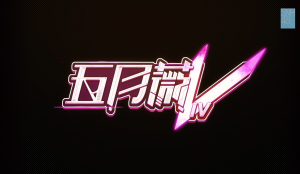 Halfway through the show, another surprise awaited the fans. STAR48 announced a new partnership with Tencent to create the first virtual idol group using AI (artificial intelligence) technology. You can read more about it in this article.
Shuffle!

The event that most fans were waiting for took place after all the 50 songs had been performed: the SNH48 Team Shuffle!
Several things happened in the span of a few minutes: SNH48 Team XII was officially disbanded, a new Team FT ("Team Future") was created to replace it, the new 9th generation members were introduced, and the remaining four teams were reorganized!
Sadly, several members were also demoted back to "Research Student" status which means they are no longer attached officially to a team. Many of those members were already on the out of the group but, for the others, they will act as substitutes for the other teams until they can be promoted again.
Read all about the SNH48 Team Shuffle here.