Su ShanShan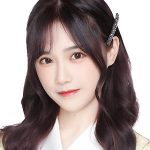 of SNH48 Team NII was one of three appearing in a CCTV documentary that was released on October 21st.
The documentary "青春大概" interviews a musician, an idol (ShanShan), and an athlete to see how they are dealing with the challenges of constant competition in their fields. It essentially asks: "Is it a failure to come in 2nd place?"
Su ShanShan talks about the difficulty of coming in 2nd in her group and how she is turning that into inspiration to strive for her goal to be number one.
The interview was recorded earlier this year when she was still a member of BEJ48.