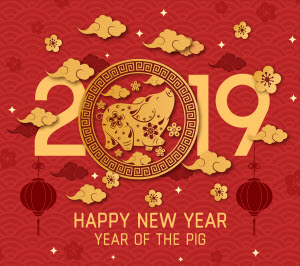 As usual, the Spring Festival season is a busy one for the members of SNH48 Group. Not only was there the Best50 Request Time Concert on January 19th but also multiple Spring Festival galas and shows to record ahead of the actual holiday.
This is both practical and political.
Practical because the many channels all compete to have the top talent appear so recordings allow SNH48 to show up on multiple shows the same day. Political because the authorities want to avoid anyone using the high profile event to do anything they wouldn't approve of.
Since most of these shows are recorded already, it also means the members get to enjoy early holidays with their families as soon as the special stages are over or even earlier for those who are not participating.
Let's take a look at what we can expect to see.
Spring Festival stages
Things kickoff a few days before the main event with special stages offered at all three of the SNH48 Group Xingmeng Theaters in Shanghai, Beijing, and Guangzhou.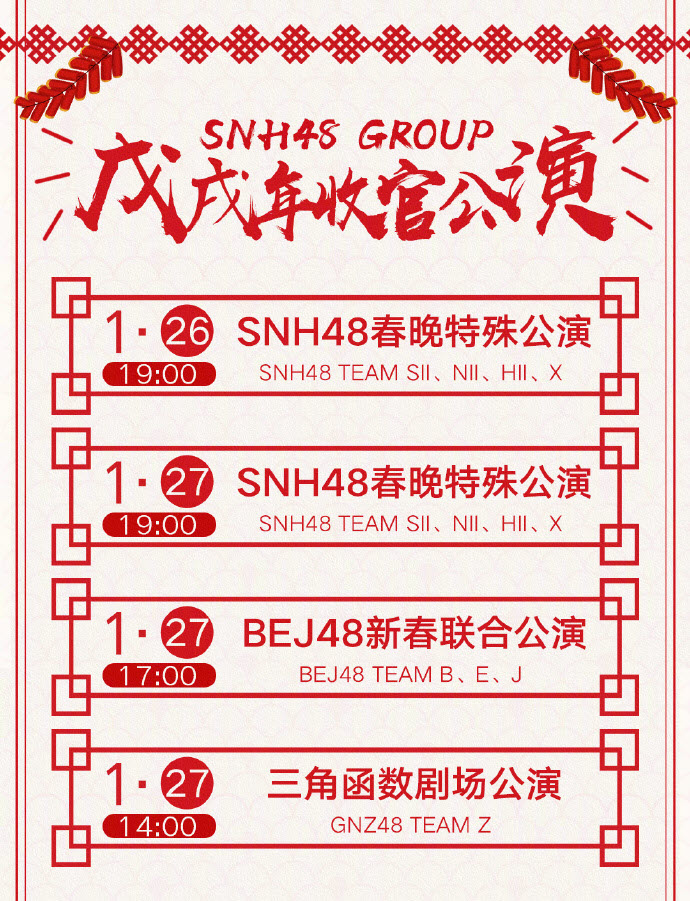 SNH48
SNH48 will offer two special performances with a mix of members from all four teams on January 26th and 27th.
Below is the list of members from each teams that will take part.
BEJ48

and

GNZ48
For their part, sister groups will each host one special event on January 27th with a joint stage in Beijing and a Team Z performance in Guangzhou.
Why no joint stage for GNZ? Other teams will be involved in rehearsals for the GuangdongTV and GuangzhouTV galas.
TV Spring Festival galas and shows
SNH48 Group has become a regular participating in a number of TV shows during the holiday season with a heavy presence on state-run (or associated) TV channels like CCTV, LiaoningTV, or for the first time this year NingxiaTV and New China TV.
Below are the dates and groups participating in each show.
DATES
CHANNELS
GROUPS
Jan 28
CCTV1 / CCTV3
SNH48
BEJ48
Feb 2
ChongqingTV
Huang TingTing
SEN7ES
GNZ48
AnhuiTV
SEN7ES
BlueV
New China TV
GNZ48
NingxiaTV
BEJ48
Feb 3
LiaoningTV
BEJ48
ACFun
GNZ48
Feb 4
GuangzhouTV
GNZ48
GuangdongTV
Spring Festival on 動感101

As a novelty this year, SNH48 will take part in a daily radio broadcast with 動感101 from February 2nd to February 10th (the main holiday period).
The hourly show will air at 10pm (China time) with a different selection of members each show.
DATES
MEMBERS
Feb 4
Zhang Xin
Xu Han
Xu YangYuZhuo
Feb 5
Li MeiQi
Li XingYu
Yang LingYi
Feb 6
Sun XinWen
Zhang DanSan
Feng XiaoFei
Feb 7
Qian BeiTing
Kong XiaoYin
Feb 8
Zhang YuXin
He XiaoYu
Yi JiaAi
Feb 9
Li MeiQi
Ma Fan
Zhu XiaoDan
Feb 10
Lin Nan
Zhang Xin
Xu Han
Stay tuned for regular updates on these shows as they are presented!