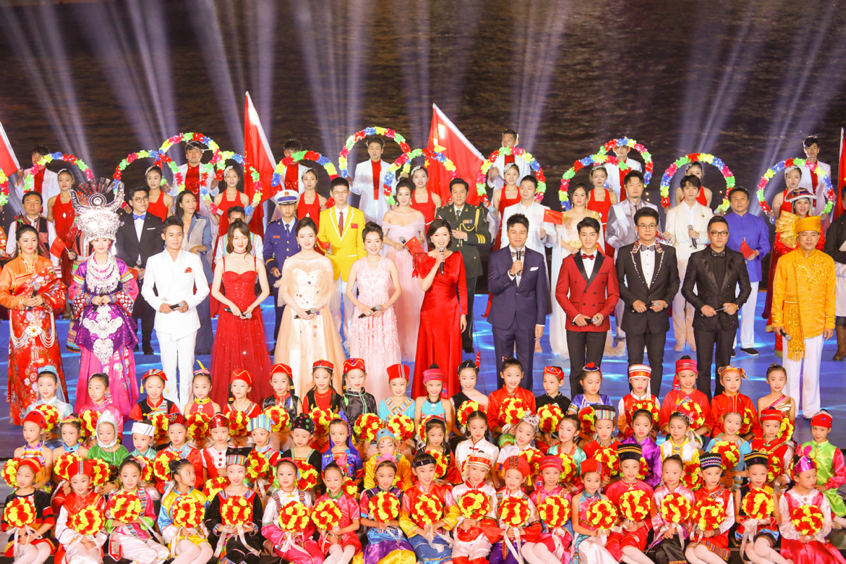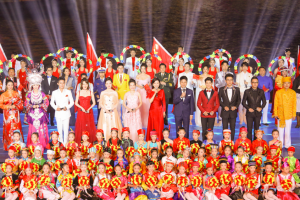 SNH48 was very busy over the last week in rehearsals and recordings of a significant television show part of the celebrations for the 70th anniversary of the People's Republic of China.
First aired on October 2nd, "长江之恋" ("Love of the Yangtze River") was billed as a celebration of the 12 provinces the river goes through on its way to the sea. The show included many known Chinese stars as well as acts from all of the provinces represented.
SNH48 was invited due to its link to Shanghai but also the fact that its members come from throughout China.
The team performed the Team X original stage song "Dream Banner" alongside boy band "ALL IN" in a tribute to the Chinese national flag. View that performance at top of page.
Participating members were: Mo Han (Team SII), Zhang Xin (Team HII), Dai Meng (Team SII), Xu YangYuZhuo (Team HII), Sun Rui (Team SII), Qian BeiTing (Team SII), Shen MengYao (Team HII), Zhang YuGe (Team SII), and Wu ZheHan (Team SII).
Show airs on 12 satellite TV stations
The show airs on TV stations from all 12 provinces from October 2nd to October 7th (2 stations per night). The schedule will be:
Oct 2 – DragonTV and QinghaiTV
Oct 3 – AnhuiTV and ChongqingTV
Oct 4 – ZhejiangTV and JiangxiTV
Oct 5 – JiangsuTV and HubeiTV
Oct 6 – HunanTV and SichuanTV
Oct 7 – GuizhouTV and YunnanTV
Below are some photos from the event.