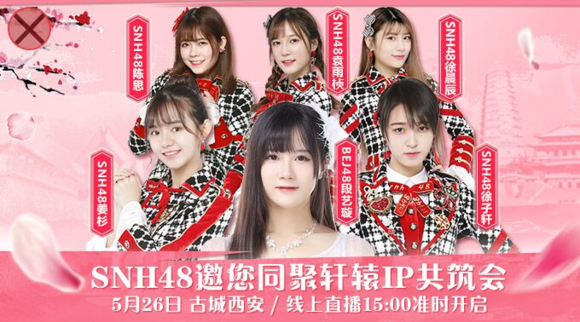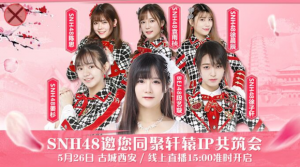 SNH48 was in the historic city of Xi"AnXi"AnXi"An is the capital of Shaanxi Province, People"s Republic of China. It is a sub-provincial city located in the center of the Guanzhong Plain in Northwestern China. One of the oldest cities in China, Xi"An is the oldest of the Four Great Ancient Capitals, having held the position under several of the most important dynasties in Chinese history, including Western Zhou, Qin, Western Han, Sui, and Tang. Xi"An is the starting point of the Silk Road and home to the Terracotta Army of Emperor Qin Shi Huang. Source: Wikipedia on May 26th to help with a promotional event for a new Tencent Games title: "Legend of XuanYuan" which is a fantasy combat mobile game.
Duan YiXuan (from BEJ48 Team B) joined up with SNH48 Team SII members Xu ChenChen, Yuan YuZhen, Chen Si, and Xu ZiXuan as well as Team HII member Jiang Shan.
The group performed two songs to a small group of Tencent invited guests: "Dream Land" (at top of page) and "Give Me Five" (below).