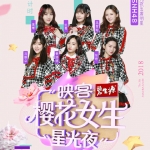 On May 27th, a team of SNH48 members were in Guangzhou to participate in the "Sakura Muse" festival for the first time.
This event included a Chinese boy group as well as several soloists with SNH48 being the only female group present.
Participating members were Top 16 members from Teams SII and NII: Mo Han, Zhao Yue, Wu ZheHan, Feng XinDuo, Huang TingTing, and Lu Ting.
The team performed two songs: "Princess Cloak" and "Summer Pirates" (at top of page).
Members also appeared on the red carpet and in an informal backstage web interview (both below).