Most SNH48 Group fans have noticed the omnipresence of the "Live" branding associated to the 4th General Elections to be held on July 29th in Shanghai.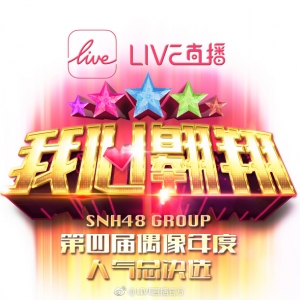 "Live" is not a new network but it is one that has gone through a rebrand over the last year and has increasingly augmented its presence in the online entertainment world in mainland China (tackling heavyweights Tencent and Weibo along the way).
What is "Live"?
"Live" is the APP and, by extension, the internet broadcasting tool of CCTV Mobile Media (yes, THAT CCTV). Until recently that branch of the Chinese official TV was pretty much dedicated to broadcasting on a network of screens in buses and subways in large Chinese cities… but it had ambitions.
As CCTV is losing ground to private broadcasters like HunanTV, DragonTV, JiangsuTV, and online only broadcasters like Tencent, the powers that be realized they needed to get a firmer presence in online entertainment (as opposed to simply pushing CCTV content online)… and "Live" was born.
STAR48 Strategic Partner
"Live" has managed to strike a strategic partnership with STAR48 that gave it the rights to the broadcast of the SNH48 Group 4th General Elections. In return, STAR48 is getting funding and access to the CCTV Mobile Media network to promote the event.


This has led to a number of related activities:
"Live" providing for a larger scale launch event for the election (as opposed to doing it at the SNH48 Xingmeng Theater like in previous years).
"Live" enabling the creating and broadcasting of special election promotional videos (PV) for SNH48 members.
Interviews with SNH48 members on the "Live" network.
Ads for the general elections through the bus and subway networks of 20 major Chinese cities.
And more
Here is an example of the results of that partnership so far. Member promotional videos broadcasted on the "Live" APP: