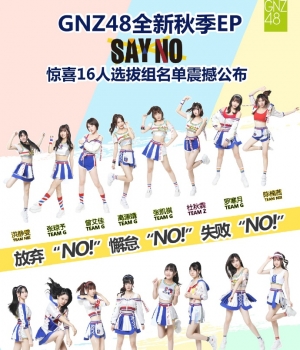 GNZ48 recently announced that their Fall EP will be called "Say No".
In anticipation of its release, fans were invited to guess who were the 16 members part of the selection for the single with members to be revealed one by one as a leadup to the EP.
All members of the selection are listed below.
| | | |
| --- | --- | --- |
| Du QiuLin | Team Z | |
| Feng JiaXi | Team NIII | |
| Nong YanPing | Team Z | |
| Luo HanYue | Team G | |
| Wang SiYue | Team Z | |
| Zeng AiJia | Team G | |
| Hong JingWen | Team NIII | |
| Gao YuanJing | Team G | |
| Zhang KaiQi | Team G | |
| Chen NanXi | Team NIII | |
| Zhang QiongYu | Team G | |
| Zheng DanNi | Team NIII | |
| Chen Ke | Team G | |
| Long YiRui | Team J | |
| Tang LiJia | Team NIII | |
| Lu Jing | Team NIII | |