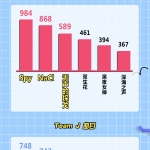 BEJ48 is presenting very special stages on October 5th and 6th. These joint stages featuring Teams B and J (with Team E being on tour in Shanghai) are presented online only with no fans in the theater.
This stage titled "彼异界播报之BE JUMP!直播综艺" contains songs voted by fans over the last two weeks (see right) in a way similar to what is done for the Best50 concerts.
The absence of fans in person creates a slightly different dynamic for the members and an ambiance we are not used to.
Watch the first of the two stages at top of page.