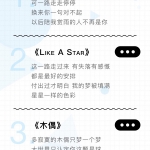 Li YiTong of SNH48 Team HII (2nd generation member) will see her first solo EP titled "那好吧" ("OKAY THEN") go officially on sale on November 2nd.
This EP is her prize for winning the 5th SNH48 Group General Elections which took place in July 2018.
The EP
Offered in three bundles, the EP will offer 4 songs.
The first two ("那好 吧" and "Like a Star") are new originals while the remaining two are covers from the Team NII ("木偶") and Team XII ("人間規則") repertoire.
In a bid to increase revenue, STAR48 is introducing three different versions of this EP.
The first version comes with a CD and photos but NO handshake tickets (as is normally the norm) for 48 RMB. The next two packages include the tickets but at a significant markup of 348 RMB.
The one interesting aspect of this is that one of the two bigger packages includes a version of the EP on vinyl which is a first for SNH48 Group.
Premiere and MV
Li YiTong will perform the title track of her EP "那好 吧" ("OKAY THEN") for the first time on the IQYI music show "Idol Hits" on November 2nd (same day the EP goes on sale) with the MV release date still to be announced.
Read (in Chinese) the press release for the EP.