SNH48 members were not idle hands on Saturday July 25th as multiple events were taking place online and offline in several locations on top of the usual stage performances in theaters.
Venucia Douyin broadcast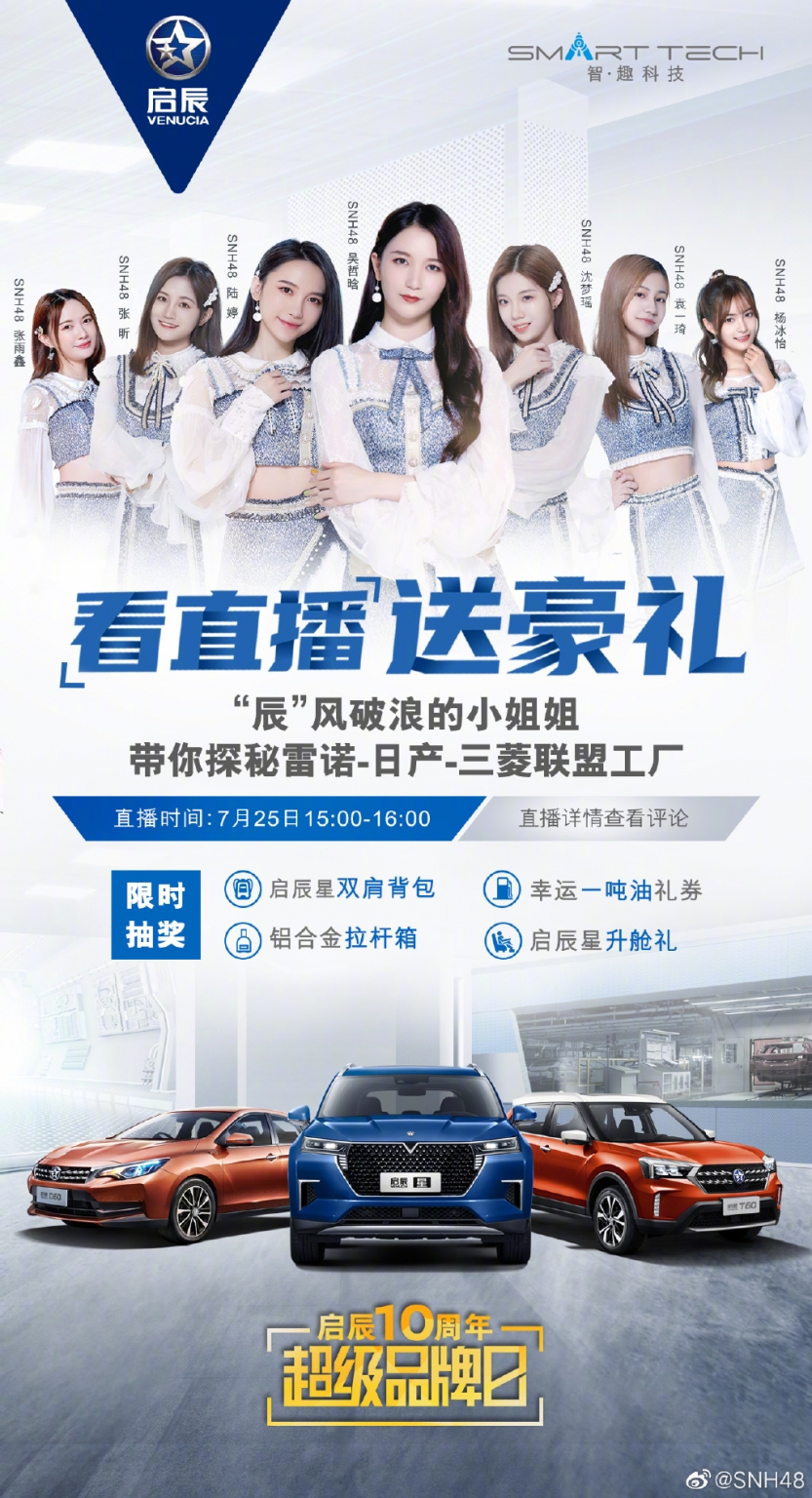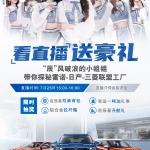 The biggest event in numbers was out of Shanghai as a team of members flew to the Dongfeng MotorsDongfeng MotorsAutomobile manufacturing company headquartered in Wuhan with factories throughout the country. It is a 50–50 joint-venture between Dongfeng Motor Group and Nissan Motors. It produces passenger cars under the Nissan marque and commercial vehicles under the Dongfeng marque. Source: Wikipedia car factory for a Live Douyin broadcast celebrating the 10th anniversary of the company's partnership with the Renault-Nissan-Mitsubishi AllianceRenault-Nissan-Mitsubishi AllianceFrench-Japanese strategic partnership between the automobile manufacturers Renault (based in Boulogne-Billancourt, France), Nissan (based in Yokohama, Japan) and Mitsubishi Motors (based in Tokyo, Japan). Originally known as the Renault–Nissan Alliance, the Alliance adopted its current name after Nissan acquired a controlling interest in Mitsubishi. Source: Wikipedia.
Taking part in their capacity as brand ambassadors, SNH48 were integral to the broadcast which was a marketing event for the cars being sold by the company.
You can watch a cut from That Douyin broadcast at top of page.
Participating members: Wu ZheHan (Team SII), Lu Ting (Team NII), Shen MengYao (Team HII), Zhang Xin (Team HII/NIII), Yuan YiQi (Team HII), Zhang YuXin (Team NII), and Yang BingYi (Team X).
Dai Meng for Sina Sports
Dai Meng (Diamond) of Team SII was out for some solo work appearing as a guest star on a Sina Sports TMall promo event where she interacted with the host but also offered a performance of two songs: "Mad World" and "正义之手". You can watch both in the videos below.
L+Mall handshake event
The final item on our list is a two-day handshake event (July 25th and 26th) at the L+Mall in Shanghai featuring members who took part in suvival shows.
Fans gathered early on the 25th as a select group who were in "Youth With You 2" and "CHUANG 2020" appeared to meet with fans and sign autographs. On the 26th, it will be up to members who were on the "We Are Blazing" show to meet fans.
Below are some photos from the July 25th event with Zhang YuGe (Team SII), Su ShanShan (Team E), Sun Rui (Team SII), Xu YangYuZhuo (Team HII), Fei QinYuan (Team HII), Li JiaEn (Team HII), Sun ZhenNi (Team HII), and Huang EnRu (Team J).