Lu Jing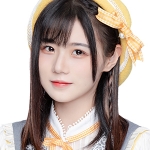 of GNZ48 Team NIII has officially released her first solo song and MV this month.
This is not an official GNZ48 release but was approved by management as a collaboration with Chongqing based music producer "T2o_" (Li Maoyang). This producer is known for work he has done with a few idol groups including "S.I.N.G." This song with Lu Jing is part of a project the producer has of exploring different styles of music.
Back to the 90s
For this song, the producer wanted a 90s disco feel both in the song and the MV. "蹦迪少女" ("Disco Girl") was written to fit that description to a "T". The song itself (listen to it in the video below) was released on August 7th and then followed by the MV on August 12th.
For the purpose of the MV, Lu Jing adopts the persona of the 90s idol "Nono" (a fiction). You can watch that MV at top of the page.