Zhao Yue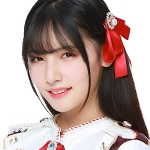 (Akira to SEN7ES fans) of SNH48 Team NII stars in a new bikini MV that she created herself based on the song "爱的加速器" ("Love Accelerator").
This is a solo song she originally performed as part of the Team NII 3rd stage "前所未有" back in 2014-2015. This song also ranked number 5 in the 1st SNH48 Best50 Request Time in 2015 (below).
The full MV is at top of page.