The Captain of SNH48 Team X, Li Zhao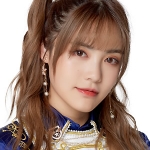 (4th generation member), was the focus of an interview for the Tencent News program "One Day, One Life" which delved into the challenges of balancing her university studies with her career as an idol.
Li Zhao talks about the difficulties of being at school all day and then having to rush off to the Xingmeng Theater for performances or special events while maintaining an active presence for her fans.
The show follows her in class at the Shanghai Theater Academy as well as in the SNH48 theater.
Watch the full show at top of page.