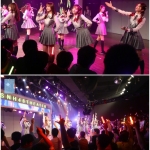 SNH48 Team FT held their very last performance of their first stage "梦想的旗帜" ("Dream Banner") at the Xingmeng Theater in Shanghai on August 24th.
They will now premiere a revival of the GNZ48 Team G 1st original stage "双面偶像" on September 1st.
You can watch the entire performance from the official YouTube channel at top of page.