Some fans may have failed to notice in all the excitement of graduations of 2nd generation members over the last month, but Jiang Yun
of SNH48 Team SII has become the only remaining original member of that team as a result of those events.
As such, it was only fitting for her to receive a special birthday stage ahead of her own upcoming graduation and that took place on October 3rd, 2021.
Wang XiaoJia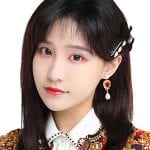 of Team X was a special guest for the show. The two are currently featured in a SNH48 variety travel show on Bilibili as a result of their win in the "Be the Best with You" competition held earlier this year.
Watch the full show in the video at top of the page.