IQIYI announced that it would premiere its new comedy series 清风朗月花正开" ("The Flowers are Blooming") on December 19th, 2021.
The show follows a princess who decides she wants to be an artisan and slips away to mingle with workers at the palace while hiding her identity.
The show stars Xu JiaQi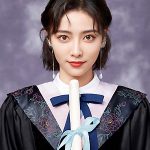 (Kiki) of the SNH48 subunit SEN7ES (Honoured Graduate) who just recently reached the end of her 18 months contract with the IQIYI group "THE9". Since the show was filmed during her tenure with that group, she is still identified by that tag on promotional material.
Don't forget to watch and show your support!