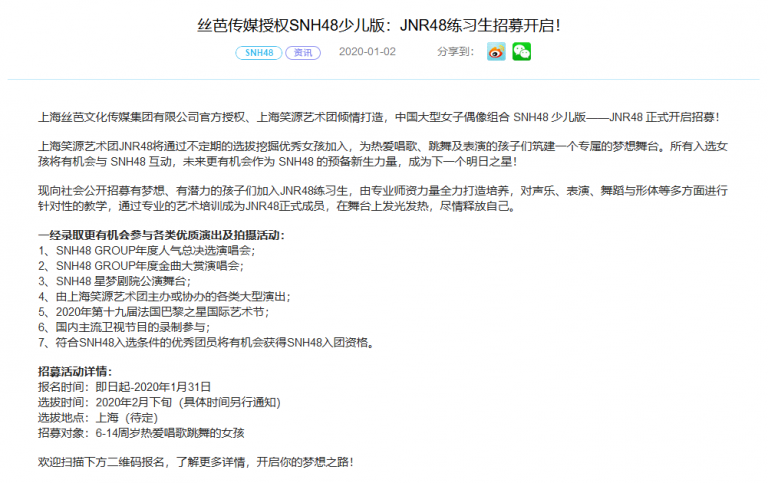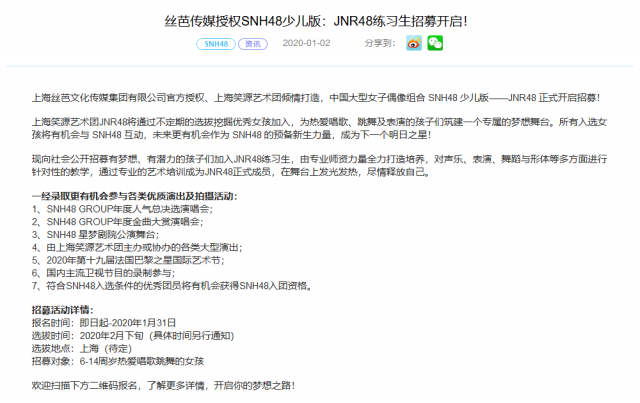 On January 2nd, SNH48 posted on its news page (above) a new significant announcement: the creation of a new group called JNR48!
Created and operated by the Shanghai Xiaoyuan Art Troupe (associated to the Shanghai Media Group) under license by STAR48, this will be a "junior" version of SNH48 as the name implies (JuNioR48). Operating as its own talent agency, JNR48 will recruit young talent between 6 and 14 years with the intent of providing them long term training and performance opportunities.
Auditions will run until the end of January 2020 with selections taking place in February. Selected members will be given training as well as opportunities for outside work in various shows and events including interaction with SNH48 Group members at the Best50 Request Time, general elections, and theaters.
Shanghai Xiaoyuan Art Troupe
You might be forgiven for not knowing what the Shanghai Xiaoyuan Art Troupe is but if you are an SNH48 fan you have seen them before. This Shanghai dance troupe has been associated to three SNH48 Group General Elections so far and their performances were very well received.
Still don't remember?
Here are videos from the 2017 and 2019 SNH48 Group General Elections to help jog your memory.