Jiang YuHang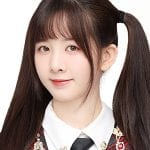 of GNZ48 Team NIII made her official debut as trainee commentator for the Tencent Gaming Association (TGA) esports tournament during their July 12th broadcast of a League of Legends (LoL) game between two of China's provincial teams.
Jiang YuHang is one of three GNZ48 members (as we reported here) to join the "TGA Stars" trainee programs for esports hosts but is the first one to get on the air.
You can watch a cut of her appearance on the show at top of the page.