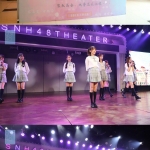 After a year of performances, SNH48 Team NII said goodbye to their "以爱之名 2.0" ("In the Name of Love 2.0") which had premiered on November 11th, 2017 as an "improved" version of the ill received "以爱之名" stage which had debuted a month prior.
With several members absent on other engagements (drama filming mostly), the team offered different combinations of members in popular unit songs for the fans enjoyment.
The team will now head into a waiting period leading up to the premiere of their next original stage "时之卷" (exact date to be announced).
In the meantime, you can watch the full finale of Team NII's 6th stage at top of page from the official Youtube channel.