As revealed by our Partner Fan Site Info@SNH48Group on October 19th (see tweet to the right), Guo Shuang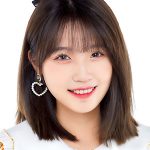 of SNH48 Team HII has found herself caught in a dating scandal that briefly made her top the chart of Sina Weibo searches.
The scandal came to light after she posted a QR code in one of her vlogs. Fans promptly scanned the code to see where it might lead and realized it contained pictures of her in a relationship with a boy.
Once that evidence had come to light, three things happened in quick succession: her fan club disbanded, she was dropped from voting plans for the upcoming Best50 Request Time, and Guo Shuang herself issued an apology indicating these were old photos and she was no longer in a relationship with the boy in question. She also indicates she is taking responsibility for her actions and would accept any punishment from the company.
STAR48 announces punishment
These kind of scandals are not new to SNH48 Group with an average of one each year so, there are fairly standard punishments that can be expected ranging from a written warning to an outright dismissal.
To the right are the punishments that were announced by STAR48 on October 20th, 2021.