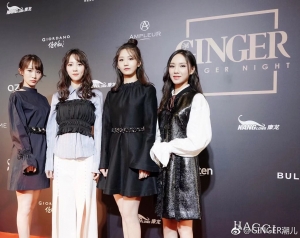 GNZ48 members Zheng DanNi (Team NIII), Liu LiFei (Team NIII), Chen Ke (Team G), and Tang LiJia (Team NIII) were in Beijing on October 18th to help celebrate the Sino-Japanese fashion magazine "GINGER潮儿" during their "GINGER NIGHT" event. They joined several other Chinese and Japanese celebrity guests for the occasion.
The members also performed two songs for the assembled guests and received a special thank you award for their participation.
You can watch the members arriving on the red carpet for the event at top of page. The videos below show them performing and accepting their award.