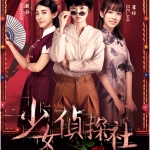 The long awaited premiere of the new Studio48 drama "Girl Detective Agency" starring Dai Meng of SNH48 Team SII, Li Zi of BEJ48 Team E, and Liu LiFei of GNZ48 Team NIII finally took place on June 5th, 2018.
Streamed on Tencent VIP, the show is a detective story set in the pre-WWII period when Nationalists were still ruling China.
For the moment, the show is only available to people with a Tencent VIP account but we will repost it once that restriction is lifted.
Over 4 million people have viewed the video since it was launched one day ago!