Feng XinDuo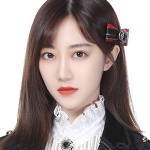 , 2nd generation member of SNH48 Team NII, took her first official steps on the stage of the BEJ48 Xingmeng Theater on November 8th as she began her concurrent role as member of Team E. This was the first stage for her since the announcement of her joint membership.
You can watch the full stage from the official SNH48 Youtube channel at top of page.
Below is Feng XinDuo being welcome by her new team and revealing her portrait on the Team E wall at the theater.