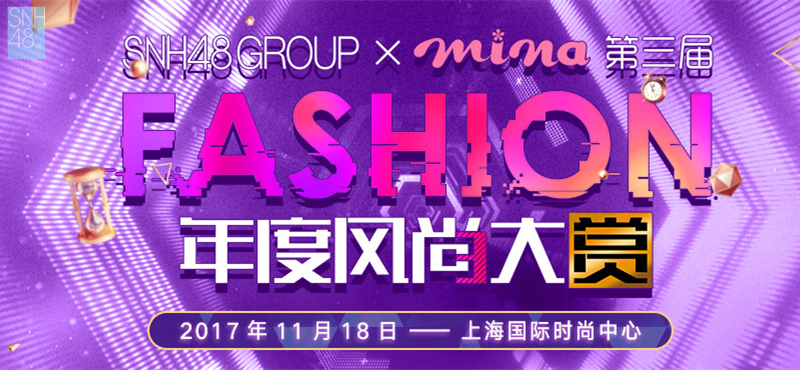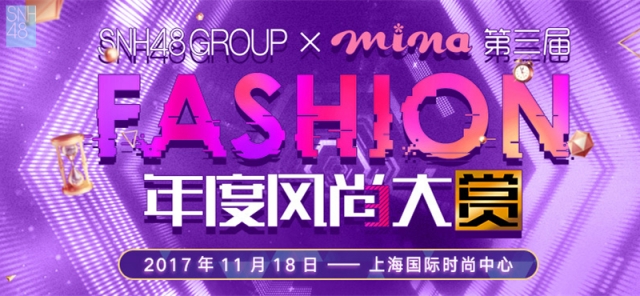 STAR48 has revealed the names of the nearly 150 members who will take part in the 2017 SNH48 Group x Mina fashion show on November 18th.
These members were selected by each group (although some members decided to withdraw) to represent them at the event.
This is a fashion event but also a competition where judges will decide which members should become part of the "Style7" subunit for the next year (membership rotates every fashion show). Two new subunits will also be created through fan vote.
Below is the list of representatives for each group.
TEAM SII

Chen GuanHui
Cheng Jue
Chen Si
Dai Meng
Jiang Yun
Kong XiaoYin
Lu Yi
Li YuQi
Mo Han
Pan YanQi
Qian BeiTing
Qiu XinYi
Sun Rui
Wen JingJie
Wu ZheHan
Xu ChenChen
Xu JiaQi
Xu ZiXuan
Yuan DanNi
Yuan YuZhen
Zhang YuGe
TEAM B

Chen MeiJun
Duan YiXuan
Hu XiaoHui
Liu ShuXian
Qing YuWen
Zhang MengHui
TEAM G

Chen Ke
Chen YuQi
Luo HanYue
Liang Ke
Xie LeiLei
Zeng AiJia
Zhang QiongYu
Zhu YiXin
TEAM SIII

Fu ZiQi
Han JiaLe
Jian RuiJing
Li Hui
Liu Jiao
Liu Na
Lu TianHui
Lai ZiXi
Wang ShiMeng
Yang YunHan
Zhao JiaRui
TEAM C

Qiao YuZhen
TEAM NII

Chen JiaYing
Chen WenYan
Feng XinDuo
Huang TingTing
He XiaoYu
Jiang ZhenYi
Liu JuZi
Lin SiYi
Lu Ting
Liu Ying
Li YiTong
Wan Lina
Xu Yi
Yi JiaAi
Zhao Yue
Zeng YanFen
Zhang Yuxin
TEAM E

Chen QianNan
Li Na
Liu ShengNan
Li Xiang
Luo XueLi
Li YuanYuan
Li Zi
Ma YuLing
Su ShanShan
Yang YiFan
Zhang XiaoYing
TEAM NIII

Chen XinYu
Feng JiaXi
Lu Jing
Liu LiFei
Liu QianQian
Tang LiJia
Xiao WenLing
Xiong XinYao
Zheng DanNi
Zuo JiaXin
Zheng Yue
TEAM HIII

Gao ZhiXian
Kou ChengXi
Liu JingHan
Li XiNing
Zheng JieLi
TEAM K

Zheng YangYing
TEAM HII

Hao WanQing
Liu JiongRan
Lin Nan
Liu PeiXin
Shen MengYao
Sun ZhenNi
Wu YanWen
Xu Han
Xie Ni
Xu YiRen
Xu YangYuzhuo
Yuan Hang
Yang HuiTing
Yuan YiQi
Zhang Xin
TEAM J

Fang Lei
Huang EnRu
Ren XinYi
Sun YuShan
Wang YuXuan
Yang Ye
TEAM Z

Nong YanPing
Wang CuiFei
Wang JiongYi
Wang SiYue
Wang ZiXin
TEAM X

Chen Lin
Feng XiaoFei
Li Jing
Lin YiNing
Li Zhao
Qi Jing
Shao XueCong
Song XinRan
Sun XinWen
Wang Shu
Wang XiaoJia
Xie TianYi
Yang BingYi
Yang YunYu
Zhang DanSan
Zhang JiaYu
TEAM XII

Chen YunLing
Fei QinYuan
Hong PeiYun
Jiang Shan
Jiang ShuTing
Li JiaEn
Lv MengYing
Liu ZengYan
Pan YingQi
Xu ShiQi
Yan JiaoJun
Yu Jiayi
Zhang WenJing
Zeng XiaoWen
Zhang Yi