Sun Rui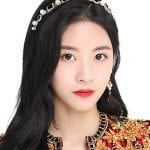 (Three) of SNH48 Team SIi was one of the guests of the Tencent show "邻家诗话" on July 12th, 2021.
This is not the first time an SNH48 member appears as guest on this show dedicated to Chinese classical poetry and litterature part of the now ever present string of programs mandated by the government as part of its drive to promote domestic culture over imports from South Korea, Japan, or the United States. This is part of the same wave that led to the creation of shows like "Youth and Melody" (DragonTV).
In this show, Sun Rui discussed with other guests and the host (below) as well as performed a rendition of the classic "墨竹图题诗" (at top of the page).