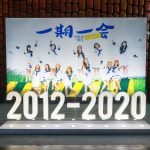 This is the moment when everything changes.
On October 7th, 2020, SNH48 presented the first of two concerts to celebrate their twelve remaining 1st generation members whose contracts are ending on October 14th. The concert on October 8th (which will be streamed Live in exclusivity on Netease Music) will be the very last show for them as members of SNH48.
A few will continue on with STAR48 in different roles or with subunits but they already said their goodbye to the Xingmeng Theater they helped to create and to the omnipresent handshake events.
Now known as "Honoured Graduates", these members have helped set the foundations of idol culture in China.
With their departure, SNH48 is losing some of its histories and also a little bit of its soul since these individuals have watched it grow and morph from being nothing more than an AKB48 copy to something quite different through joy and adversity alike.
Many of the girls now in SNH48 joined because they were fans of one of these twelve, so the hole they create will be difficult to fill.
Let's wait and see if the younger generations are up to the challenge!
The concerts
The two concerts featuring the 1st generation are a callback to their very first shows from 2013 with songs that were translated from the Japanese AKB48 (SNH48 was a sister group of that organization at the time). They also performed their graduation song "Take Me".
A cut of the #SNH48 1st generation members performing their graduation song "Take Me" during their concert on October 7th as seen from backstage pic.twitter.com/oZ2LsOnVDA

— SNH48 Today (@snh48_today) October 8, 2020
You can listen to original recordings of many of those songs from the playlists below and watch the only video currently available from October 7th above.
Fans were pleasantly surprised to see that the group had found a way to integrate Xu JiaQi (Kiki) who could not attend in person by recording some of her performances in advance at the Xingmeng Theater. They were then played as a background video during certain songs. A very good idea.
— SNH48 Today (@snh48_today) October 7, 2020
End of an era
From Jpop to Kpop with Cpop in between, there is no denying that the repertoire and style of SNH48 has changed since 2013.
The organization has shifted to a styling that is more like Kpop since the introduction of the 8th generation in line with taking part in survival shows that favour that style. Even the physical characteristics of members have changed (height being one) and a focus on dancing abilities more than variety.
You can expect to see a more pronounced move in that direction after the 1st and 2nd generation members have graduated. They have been "anchors" in many ways since fans have linked them to their earlier style.
Are you curious to see where SNH48 will go now? We are!