SNH48 Team HII had a little surprise for fans during their May 26th stage performance in Shanghai.
The team performed a new original song titled "选我吧" ("Choose Me") which will be the theme of thew upcoming "Dream Studio 48" variety show set to premiere on IQIYI the day after the official launch of the 5th General Elections on June 10th.
Editor's Note: It was falsely reported in some places that this song would be the theme song of the 5th General Elections. STAR48 confirmed this was not the case. This is only for the "Dream Studio 48" show.
Many are already making the association between "Choose Me" and "Pick Me" (theme of the Produce48 show in South Korea).
Although Team HII obviously had very little time to rehearse a dance for this song, you can listen to the audio in the video at top of page.
Controversy
Editor's Note: The final version of the song was renamed "Ready! Go!" and the lyrics adjusted accordingly in a bid to remove any confusion.
As stated above, the similarities between "Choose Me" and "Pick Me" (beyond the name) were enough to send some netizens on the attack for what might be plagiarism.
This was enough to even attract the attention of some entertainment news networks.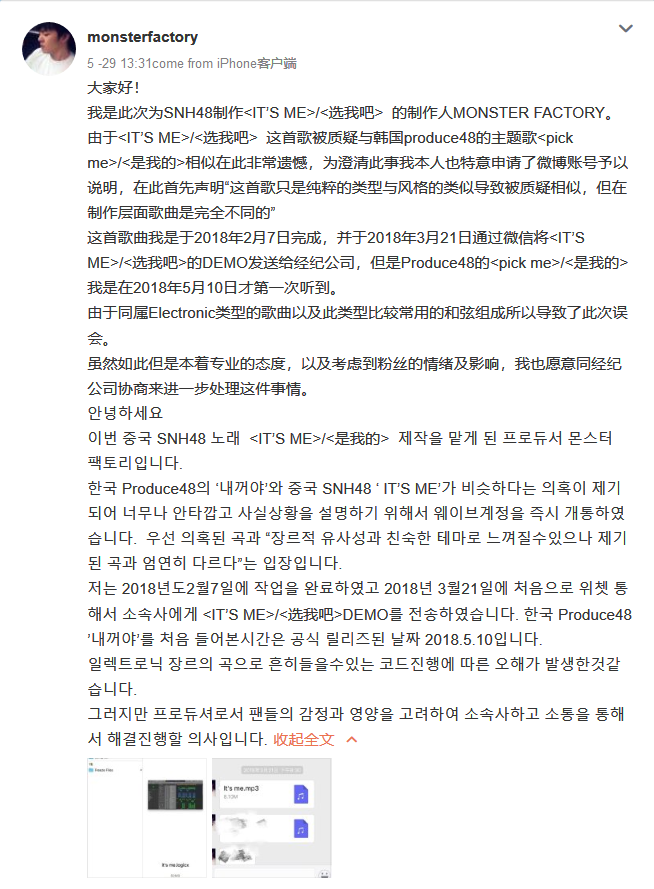 However, on May 29th, the producer of the song took the extraordinary step of creating a Sina Weibo account just to refute the accusation of plagiarism.
In his post (in Mandarin and Korean – see right), the producer states that the song predates Produce48 by several months and was, in fact, sold to STAR48 in February 2018.
He also indicates that he will work with STAR48 to ensure that all possible concerns get addressed.