Every member of the SNH48 Group Top16 gets a special show for their birthday at their respective theaters. The top 3 get to have a solo fan meet at an outside venue.
On December 1st, it was the turn of Dai Meng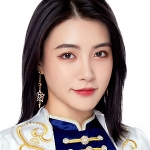 (Diamond) of SNH48 Team SII to get her featured moment. This is different from the usual birthdays in the way that special products are put for sale associated to the show with part of the profits going back to the member.
Watch the performance section of the stage at top of page.