JiangsuTV and Douyin are co-presenting season two of their popular show "蒙面舞王" ("Masked Dancer"). Based on the model of the popular show "Masked Singer", the show welcomes masked celebrities weekly with audience and panel voting for which members of the group will move on to the next stage.
During the week of August 22nd, the show welcomed amongst its guests Dai Meng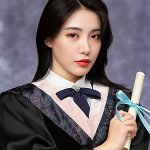 (Diamond) of the SNH48 subunit SEN7ES who presented two individual performances (with dancers) as well as took part in a collab with other contestants.
You can watch a cut of all the appearances from Dai Meng in the video at top of the page.