QQ Music was putting together a special show for all the students of various levels who are celebrating their graduations this month.
Several artists, including our very own Dai Meng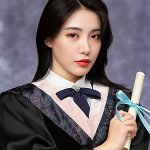 (Diamond) of SEN7ES, took part in the event on June 26th. She was invited since she "graduated" last year from SNH48.
Dai Meng actually graduated from university several years ago and holds a degree in Business Law.
Watch her full show at top of the page.