An epic battle of almost 4 years between artist and agency is quickly heading back to court if all signs are to be believed.
Zhao JiaMin (former 1st generation member of SNH48 Team SII) has been locked in legal battles with STAR48 ever since she suddenly quit the group after winning the 2nd General Elections back in 2015. It was said at the time her manager mother was unsatisfied with the fact Savoki (her nickname) was missing out on lucrative endorsements due to the need for her to keep up with SNH48 activities and STAR48 wanting to showcase other election winners too. There was also the fact Savoki had banked her SNH48 experience into a golden ticket into one of the most prestigious performing art schools in China located in Beijing.
Since she was still under an 8-year exclusivity contract, STAR48 denied her the ability to take jobs in the entertainment industry without going through them. This eventually ended up in court with Zhao JiaMin attempting to have her exclusivity contract broken. We covered the result of that case here.
What is happening now?
Fast forward to October 2020 and, having graduated from her school and assumed to see her contract end like all the other 1st generation members, we started to see signs that Zhao JiaMin was about to enter the industry again. It wasn't really what was happening behind the scenes.
STAR48 issued a declaration on November 24th, 2020 indicating that she was still under contract with them. The next day, Savoki released her own statement saying her contract had expired on October 14th, 2020 and it had not been extended. That was then followed on November 26th by a stronger statement indicating that, since Zhao JiaMin had failed to meet the obligations of her contract as per the judgement of the court, her contract continued and that any 3rd party company that engaged in business dealings with her in violation of said contract would be prosecuted.
Short of an out-of-court settlement of this situation, it seems highly likely to be heading back to court.
Below are the three statements with basic translations.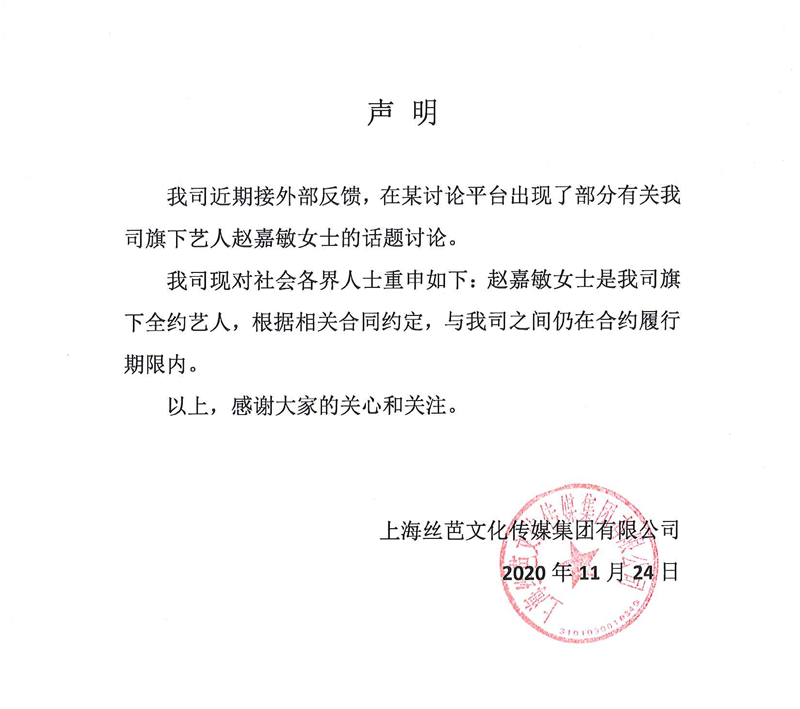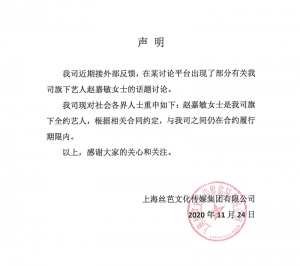 Our company recently received external feedback, and some relevant information appeared on a discussion platform. The topic of discussion being Ms. Zhao Jiamin, an artist of the company.

Our company now reiterates the following to people from all walks of life: Ms. Zhao Jiamin is an artist under an exclusive contract with our company. This contract is still active.

Thank you for your concern and attention.
---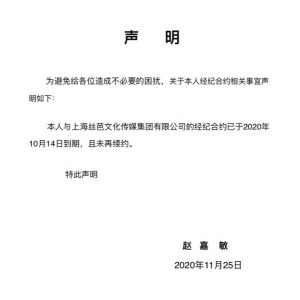 In order to avoid unnecessary trouble for you, I have heard about matters related to my brokerage contract. The explanation is as follows:

I have a brokerage contract with Shanghai Siba Culture Media Group Co., Ltd. which expired on October 14th and has not been renewed.
---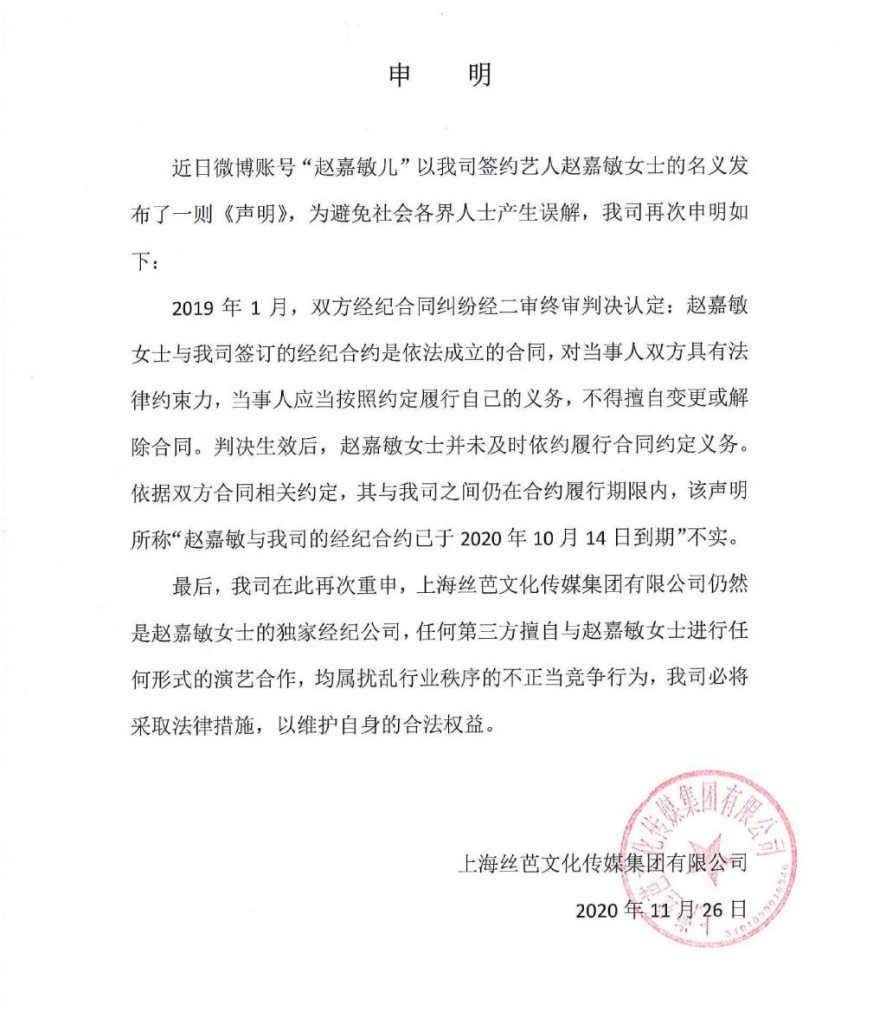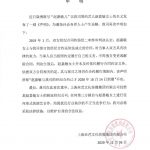 Recently, the Weibo account "Zhao JiaMin" posted in the name of Ms. Zhao JiaMin, a contracted artist of our company. In order to avoid misunderstanding by people from all walks of life, our company once again states:

In January 2019, the brokerage contract dispute between the two parties was determined by the final judgment of the second instance: the brokerage contract signed between Zhao JiaMin and our company is a legally binding contract. The parties shall perform their obligations in accordance with the agreement and shall not modify or resolve without authorization. After the judgment became effective, Ms. Zhao JiaMin failed to perform her contractual obligations in a timely manner. According to the relevant agreement of the contract between the two parties, she remains under contract with our company. The claim that "the brokerage contract between Zhao JiaMin and our company has expired on October 14, 2020" is false.

Finally, our company reiterates here that Shanghai Siba Culture Media Group Co., Ltd. still is the exclusive brokerage company of Ms. Zhao JiaMin. Any third party that engages with Ms. Zhao JiaMin without authorization for any form of performing arts cooperation is committing an act of unfair competition that disrupts the order of the industry. Our company will definitely take legal measures to protect their legitimate rights and interests.