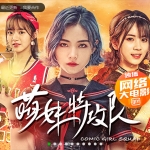 March 9th saw the premiere on IQIYI VIP of the newest Studio48 (the movie and TV production subsidiary of STAR48) movie: "萌妹特攻队" ("Comic Girl Squad").
You can watch the full movie free on IQIYI (after ads) here.
This net movie is a comedy starring Xu JiaQi (SNH48 Team SII), Xie LeiLei (GNZ48 Team G), Li Zi (BEJ48 Team E), and Jiang Shan (SNH48 Team HII) all pictured below.
Below is a for the show.