January 25th was the actual Lunar New Year day in China and SNH48 Group was very visible on various TV stations which were airing a number of pre-recorded specials for the occasion.
2 shows on CCTV15
BEJ48 was present twice on the CCTV15 channel on January 25th as they participated in a couple of Spring Festival specials.
The first featured Team E in one of their frequent appareances on the show "童声唱" which is essentially a children talent show featuring groups of various sizes coming out of dance and performance schools.
The team acted as celebrity guests and offered the song "我可以" at the end of the show (below).
Up next later in the day was Team B who performed the BEJ48 first original song "元气觉醒" ("The Awaking") which was releaseed in 2016 (below). This was a CCTV15 Spring Festival special titled "中国节拍" ("Chinese Beat").
Letdown on the JiangsuTV Gala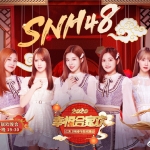 The big letdown of the day was without a doubt the appearance of SNH48 Group on the JiangsuTV Spring Festival Gala.
One of the "major" shows, JiangsuTV only had the group perform a snippet of the GNZ48 song "新年好" ("Happy New Year") at the very beginning of the gala and then had them come in again at the very end. That last song was mostly covered up by the credits and a voiceover announcement.
Participating members were from left to right on the poster above: Feng XinDuo (who has unofficially left the group since this was recorded), Yuan YiQi (SNH48 Team HII), Zheng DanNi (GNZ48 Team NIII), Shen MengYao (SNH48 Team HII), Zhang Xin (SNH48 Team HII), Zhang QiongYu (GNZ48 Team G/SNH48 Team X), and Lu Ting (SNH48 Team NII).
#SNH48 performing part of the #GNZ48 song "新年好" ("Happy New Year") at the start of the JiangsuTV Spring Festival Gala on January 25th pic.twitter.com/UvsTiRsW95

— SNH48 Today (@snh48_today) January 25, 2020
GuangdongTV Gala with TWINS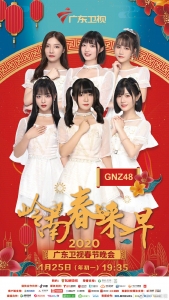 GNZ48 was once again a guest of the GuangdongTV Spring Festival Gala this year as the dominant idol group in Southern China.
The group performed their new year song "新年好" ("Happy New Year") from their "Boom! Boom! Boom!" original EP as well as collaborated with the well known Hong Kong cantopop duo "TWINS"TWINSHong Kong Cantopop duo that was created in the summer of 2001 by Emperor Entertainment Group (EEG). Twins are made up of two girls, Charlene Choi (蔡卓妍) and Gillian Chung (鍾欣潼). Their music was generally targeted at young teens, but in 2004 they began to attract a wider audience by venturing into different styles of music. In February 2008 the duo temporarily separated after the Edison Chen photo scandal involving Gillian Chung. After two years the group finally reunited in 2010. Source: Wikipedia.
You can watch that performance at top of page.