Chen JiaYing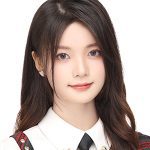 , from the 2nd generation of GNZ48 (debuted in 2017), who was a member of Team G was officially given a red card (written warning) and a demotion to trainee status on October 12th, 2021. A red card and demotion are the strongest warnings a member can get short of being dismissed altogether.
According to the statement from management (above), Chen JiaYing was found to have committed two offenses.
First, she used language that was inappropriate during a livestream on October 3rd, 2021 which went against the new government regulations regarding the behaviours of idols. It was the first time the new regulations were ever directly referenced in such a statement by the company. It clearly indicates that the company will no longer be able to tolerate things that would have gone under the radar in the past.
Second, she was found to have participated in a livestream on an unauthorized platform in violation of the company Code of Conduct which regulates what kind of activities and platforms members can appear in.
The statement does not specifically indicate if Chen JiaYing is being suspended from the "Pocket48" APP and stages but a red card usually comes with up to 6 months of suspension from all activities. Future events will reveal her fate.