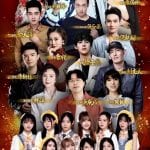 GNZ48 members were in KunmingKunmingCapital and largest city (also known as Yunnan-Fu) in Yunnan province. It was an important military center during World War II for operations against the Japanese including an American airbase due to its geography allowing access to Vietnam and Burma (now Myanmar). Source: Wikipedia (capital of Yunnan province) on December 30th to participate in a yearly concert presented on university campuses around the country by state-owned China Education Television (CETV) which covers universities, colleges, and schools throughout the country with programming similar to PBS in the United States or NHK Educational TV in Japan.
This year the concert was presented from the grounds of Yunnan University and included many solo artists with GNZ48 (presented as SNH48 Group GNZ48) as the opening act. The team performed two songs: "Made in China" and "FLY" (watch at top of the page).
Participating members were (as shown top left to right at the bottom of the picture to the right): Xie FeiFei (Team Z), Li ShanShan (Team G), Luo HanYue (Team G), Lin JiaPei (Team G), Lin Zhi (Team G), Yang YuanYuan (Team Z), Zhu YiXin (Team G), Chen Ke (Team G), Zeng AiJia (Team G), and Hong JingWen (Team NIII).