SNH48 Group was well represented on February 3rd as three of its acts appeared on a special Spring Festival livestream event on the Baidu APP. Over a dozen artists and groups performed in succession on that day to help usher in the holiday season.
SNH48 group was represented for the occasion by Mo Han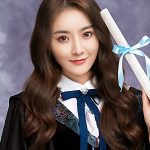 (Momo) of AW9 (Honoured Graduate), SNH48 Team NII, and BEJ48. Mo Han performed her recent solo single "Walking in the Rain" while Team SII presented "花之祭" and BEJ48 went with "Smiling Sunflower".
You can watch the Team NII song at top of the page and the other two below.